You scream, I scream, we all scream for … ICE CREAM!
Despite the fact that we're obsessed with the weather, and generally speaking, it can be pretty ropey at the best of times, little puts us off indulging in an ice-cream.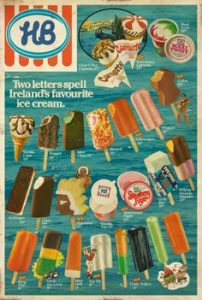 Whether it's a cone, (with or without a flake, or sprinkles or sauce) or a 'Fat Frog' or an original Cornetto, we do love our ice cream here in the emerald isle! The list of ice cream is endless and even the best of friends can argue over the right combination or their particular childhood favourite.
After a Sunday roast with all the trimmings, once ice cream is mentioned you can suddenly find room to have "just a little"! With summer fast approaching, we've put together a three simple recipes that are bound to keep kids busy, happy and creative in the kitchen.
Quick and Easy Ice Cream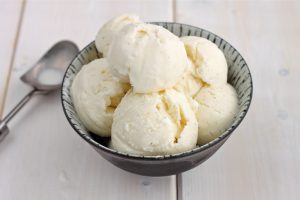 You only need two ingredients for this super-fast and delicious ice cream.
Ingredients:
1 pint of double cream.
1 can of condensed milk.
Method:
Whip the cream and then fold it in the sweetened milk and freeze for a few hours. That's it!
Because the condensed milk is already sweetened, you don't need to add sugar. Kids will love it – add some berries as a topping – or one of your favourite sauces, chocolate chips, Oreos or a crumbled flake!
Banana Ice Cream
This one is just as easy and delicious as the first recipe but it's also healthy so it's a win / win!
You need:
1 banana, peeled, sliced and frozen.
3 tablespoons low-fat milk (If you or your child is lactose intolerant, just use soya milk).
1 tablespoon chopped nuts (walnuts go really well with the banana, but you can add any other nuts too).
Method:
Place the frozen banana pieces and milk in a blender or food processor and process until it has a thick texture.
Stir in the chopped nuts.
Freeze again for about 10 minutes.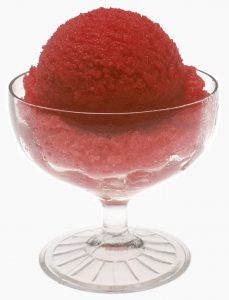 Fresh Fruit Sorbet
This recipe is super-easy and really refreshing on a hot day.
You can experiment with all sorts of flavours including watermelon, strawberry, peach or raspberry or combine different ones to make a delicious sorbet – kids will love mixing and matching different flavours to find the one they like best!
Ingredients:
113 grams white sugar.
113 grams water.
590 grams your favourite fresh fruit – nectarines, strawberries or kiwi make great sorbet!
Method:
Simmer the sugar and water until the sugar is dissolved – then let it cool.
Mash or blend the fruit.
Mix the sugar syrup with the blended fruit.
Pour in to a bowl and cover
Freeze overnight or for 7-8 hours.
Enjoy!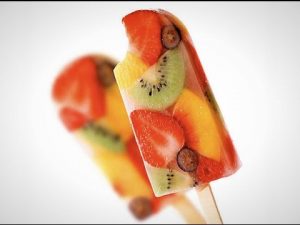 Ice Lollies
Ice lollies are loved every summer by young and old. If you don't have ice trays just use clean yoghurt pots and a teaspoon.
Ingredients: (Makes 6 lollies)
2 sweet apricots.
1 peach or nectarine.
2 kiwis.
Handful of blueberries.
2 slices of watermelon or some fruit juice.
Method:
Wash the fruit.
Cut the apricots or nectarines into little cubes.
Remove the seeds from the watermelon (if using) and mash or blend it up.
Peel the kiwis and slice them.
Add some apricot cubes in the trays, put one kiwi slice in each and add some blueberries.
Fill up with either the mashed watermelon or fruit juice.
Place the sticks in to the moulds and put it into the freezer for at least 4 hours.
To get the lollies out of the moulds just hold it under the hot tap for a few seconds.
Watch this quick 'how to' video for some ideas:
Warning
: Undefined variable $post in
/var/www/html/ballymunconnects.ie/public_html/wp/wp-content/themes/coresixteen/inc/social.php
on line
8
Warning
: Attempt to read property "ID" on null in
/var/www/html/ballymunconnects.ie/public_html/wp/wp-content/themes/coresixteen/inc/social.php
on line
8
Share this