School's out and parents are about a week away from tearing their hair out with mopey, bored kids hanging around the house. In an effort to avoid a crisis in every home across Ireland, we've come up with great things you can do with (or without!) your kids to keep them entertained on their long summer break. From free activities to things for teens, we have you covered!
Grab the DART to Bray Beach
Maybe you've read our swimming lessons guide and are looking to make your way to the beach? Well here's hoping for nice sunny weather during the summer break to enjoy a trip to Bray! Even when it's too cold to swim, being in or around water and the open spaces of the beach is always good for us – adults and kids! When you're missing the feeling of sand between your toes and want to just chill out and enjoy some fresh air, a picnic and some space with the kids – the beach can't be beaten.While you're there, you can also check out the Dublin aquarium, Sea Life: https://www.visitsealife.com/bray/ which boasts sharks, stingrays and maybe you can even spot Dory and Nemo! 🙂
On yer bike!
After a long school year, kids are happy to push back the desk, get their heads out of the books and go!With children spending so much time watching TV, using tablets and phones, it's good to get the balance right and get out in the air again. Grab your bike (Dublin bikes are practically free to use!) or get out for a walk, pack a picnic and bring it to the park.Another good weekly sports activity is the Poppintree Park Run on Saturdays 9.30am and the Albert College Junior Park Run (ages 4-14) on Sundays 9.30am.Explore places that you usually just pass by and enjoy the nature, and space. Your kids will love it and so will you!More information: http://www.parkrun.ie
Dublin Bikes: http://www.dublinbikes.ie/
Park run: http://www.parkrun.ie/
 Dublin Museums:
There are a host of amazing museums and galleries to explore in Dublin city centre – from The National Gallery of Ireland to the National Museum, there's lots to do, see and learn. They often also have a wide range of programmes and events for families and young people, most of which are free. Just check out their websites or phone them for further information.Irish Museum of Modern Art: The Irish Museum of Modern Art (IMMA) aims in all its activities to create for the public an enjoyable and engaging experience of contemporary art: http://www.imma.ieDraíocht, Blanchardstown: Draíocht is a multi-purpose arts & entertainment centre in the heart of Dublin's Blanchardstown. Choose from comedy, theatre, music, film, dance, family events, exhibitions & more. www.draiocht.ieMuseum of Decorative Arts, Collin's Barracks: Find fashion, furniture, silver, jewellery, ceramics, and exhibitions exploring Irish military history, including the 1916 Easter Rising: http://www.museum.ie/Decorative-Arts-History/Visitor-InformationMuseum of Natural History, Merrion Square: Also known as 'The Dead Zoo', the Museum's 10,000 exhibits provide a glimpse of the natural world. Giraffe, elephant, polar bear, lions, an array of monkeys, apes and lemurs are just some of the animals on display. It's a fantastic experience for young and old: http://www.museum.ie/Natural-HistoryNational Museum of Ireland, Kildare St: At the National Museum of Ireland – Archaeology, Kildare Street, you'll find objects dating from 7000BC to the 20th Century displayed through seven galleries: http://www.museum.ie/ArchaeologyNational Gallery of Ireland, Clare St, Dublin 2: As well as housing the national collection of art, the National Gallery also has free events for kids and families: http://www.nationalgallery.ie/

Photo: Pól Ó Conghaile

EPIC The Irish Emigration Museum, CHQ: EPIC is an interactive museum experience located in the CHQ building in Dublin's Docklands. Discover the stories of Irish emigration from around the world – from early times to the modern day: http://epicchq.com/

DIY Ice-creamDid you already try our delicious DIY recipes for homemade ice-cream? You can make them together with your kids, experiment with ingredients and listen to some ideas your children may have too and let us know how you get on – we'd love to hear from you and see the results too! Check out the blogpost.
Street Feast 2017: Ballymun BBQ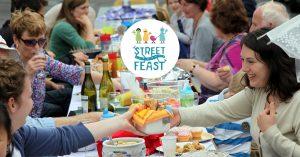 Street Feast 2017 is happening on 11th June this year so why not contact your neighbours and friends to plan a BBQ outside?
Street Feast is a day of local lunches across Ireland, hosted by you and your neighbours. They can be anywhere really — out on the street, in a local park or in your front garden.
There are lots of good reasons to have a Street Feast, but it's really just a great excuse to eat great food, celebrate your local community and meet new people who live near you.
You can chat and chill while your children are playing football, tag or drawing chalk paintings on the ground.
To find out if there is one planned near you or to register your own Street Feast see http://streetfeast.ie/my-events/
Young kids and family events:Imaginosity Dublin
Is your child is a young scientist and loves to explore? Dublin's Children's Museum Imaginosity is the perfect place for it. You can see your children playing, exploring throughout the exhibits and workshops. Kids love it and there is plenty to do. Spread over three floors, they can write, produce and present the news, shop or work in a fully kitted out supermarket or bring their dolls to the pretend hospital. On the Luas green line, it's easy to get to and a great day out.Booking: http://www.imaginosity.ie
Age: 2-9 years (recommended)
Cost: €2.00 for babies, €6.00 for toddlers, €8.00 for children from 3 years
Concession: €7.00The Ark
Discover and love art in The Ark, the cultural centre for children in Dublin Temple Bar. Your child enjoy performances in the unique child-sized theatre, view engaging exhibitions or participate in creative workshop. There is always a lot going on, some events are free.
More: http://ark.ie/eventsBloom by Bord Bia
A large garden, food and family festival with a lot going on for everyone. Stalls, music, fashion, kids entertainment, cooking, tasting, gardens. The list is never ending. The festival takes place at the June Bank Holiday Weekend (1st. June – 5th June) at Phoenix Park.Cost: Up to 3 children (under 16 years) go free with every paying adult. Adult: €16.00
Age: Family event
More information: http://bloominthepark.com
Warning
: Undefined variable $post in
/var/www/html/ballymunconnects.ie/public_html/wp/wp-content/themes/coresixteen/inc/social.php
on line
8
Warning
: Attempt to read property "ID" on null in
/var/www/html/ballymunconnects.ie/public_html/wp/wp-content/themes/coresixteen/inc/social.php
on line
8
Share this